Page 9- 1964 Harley Davidson Pacer, 1974 Suzuki 185 2 stroke, 1966 Honda Dream
Below is the 1964 Harley Davidson Pacer. This bike is in the semi restoration process at this time. I am trying to save the original paint and decals. The frame was tweeked and some of it needed to be refinished. The wheels and most of the chrome was sprayed silver for no real reason, as the chrome is mostly fine underneath. I removed the two up saddle and put a sprung solo saddle as I have always love this look. I hope to have it ready by spring 2007. *** I seek a 1966 Bobcat. I love the goofey fiberglass tank and tail section.***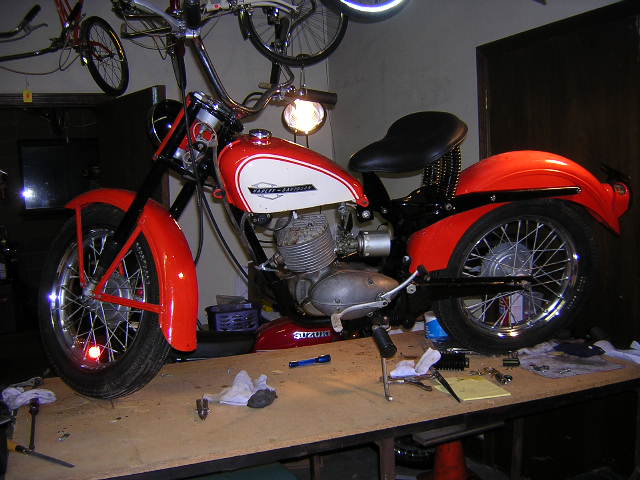 Below is the 1974 Suzuki 185 2 stroke. Very nice low mileage bike with all original paint chrome and parts. She does 75 MPH with a sweet spot at 6,000 RPMs. The front end comes up pretty easily. A very handy chain saw attachment can be used to clear brush in the out back. Wing, winnng, wiiingggaaa.

This ol gal starts every time with one turn of the electric start.This bike is owned by Wanda Stone.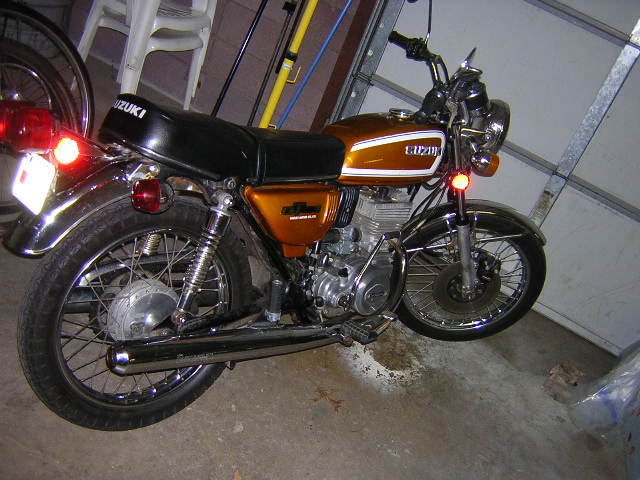 | | |
| --- | --- |
| | The sheet metal for the 1970 XLH Boat tail Sportster is all painted. Stay tuned for the finished bike in early summer 2007. This one will have bags, windsheild and crash bars. |
Below, this 1966 Honda Dream CA77 305 is so perfect that I deceided to sell the white and black ones. It does not get any better that this.