Page 7 - Harley Davidson 1970 XLH Sportster 900 (883)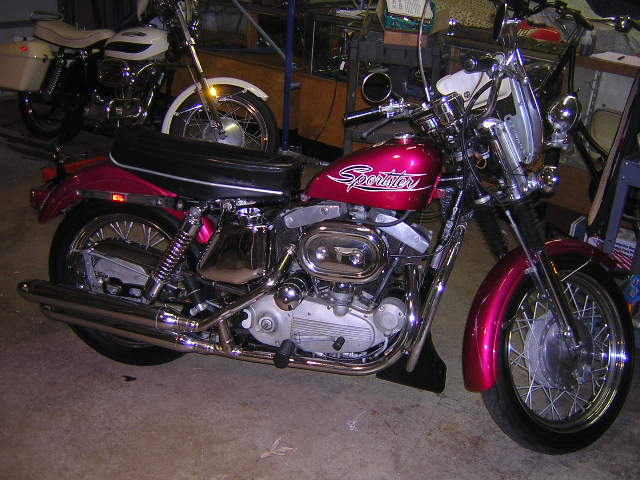 This 1970 XLH Sportster 900 (883) is a very original bike. The first owner added extra chrome on the oil tank and the chain guard. This XLH (electric start) was ordered in "Sparkling Burgundy" paint, the 2.25 gallon peanut tank and a rear rack with tour pack (not shown). This ol gal has 17,000 miles on her. She hardly leaks a drop of oil. I just hate the oil cooler bolted on the front of this classic like Mr T's gold chains.

I love the paint, but hate the peanut tank. A 1970 turtle tank and 1970 fiberglass tail section is destined for this sportster, but this sheet metal will be saved.
Uh... oh yeah, the passing lamps, and blinkers were Harley Davidson options. The windsheild was stock on the XLHs as was the crash bars. I think the skinnier black seat came with the peanut tank option, other wise the big white seat would have looked dopey behind a little tank. What the oop was HD thinking with these graphics? Phoogly.