Page 29 - 1989 FLST and 1958 Ariel Leader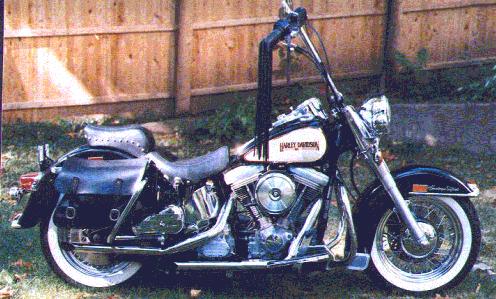 Above may be the only picture of this 1989 FLST that does not have a bare breast or two obscuring the bike. This was my rider for many years and has as many in front of bar hours as road hours. It is a wonder I am still alive to tell the stories. I sold this back when you could buy a Harley, ride it for a decade and sell it for more than you paid for it. At that time you also had to pay $1,000 for the privlege of standing in a year long line to buy a new one.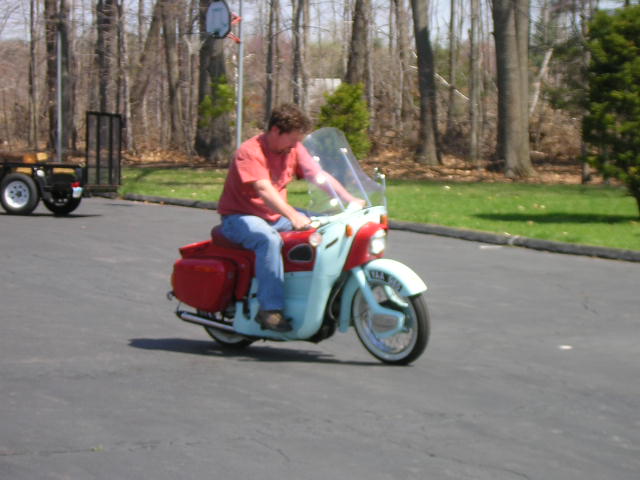 Above we have a blurry shot of the "Machine of the Year, 1959" as the decal on the front fender proclaims. This two cycle 250 is an Ariel Leader from 1958. She runs great and protects you from the wind nicely. The only thing you will need to be on the watch for is how the brake lever gets compressed during a tight turn as it contacts the windshield. Although the inevitable has not yet occurred, I am very aware that this machine will at some point toss me to the ground as I make a distracted right U- turn, most likely in front of either the Police or a microbus full of British Starlets who are all motorcycle fans. It is also my understanding the only time a man does not want sexual attention is when; 1 he really has to go to the bathroom; 2 is vomiting from drink (omit the Irish from this catagory) or; 3 is bleeding profusely from the head.

Note to self: Wear helmet when on the Leader.