Page 21 - Kawasaki 500 H1
This Kawasaki 500 H1 is a two stroke triple with less than 2,000 miles on her. A small puncture in the seat and new tires are the only imperfections I can locate. The original factory 1974 spare plugs, owners manual and tool kit are as perfect as the rest of this rare rocket ship of a motorcycle. The paint is an interesting carmine red to bright red. The carmine looks almost brown in doors. This model has been said to be a more civilized version of the earlier "Widow Makers" since the addition of a steering stabilizer and front disc brake. This girl starts on the first kick and will be registered and driven to shows on the road and not on a trailor. Unless of course it is rainy, or dusty or foggy or polleny or salty or buggy or leafy or...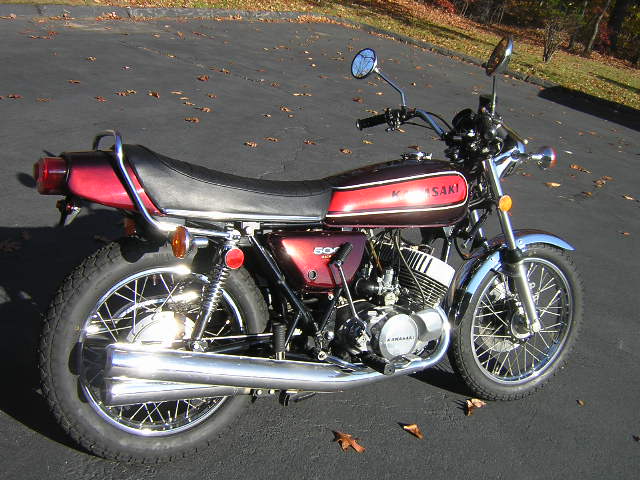 This view belowis a famous angle that shows the odd pipe arrangement that these triples have. The tail section is a feature that I actually think is an improvement over the previous normal rolled fender as seen on the earlier models. This bike has loads of character and is an important model in the developement of the later super bikes.

Special thanks to Ted from Media, PA who cared for this bike like it was alive. It is thanks to him in part that this fine example of a H1 exists in this condition. He was a fair and gracious seller if there ever was one.