Page 2 - 1964, 1966, 1967 Honda Dream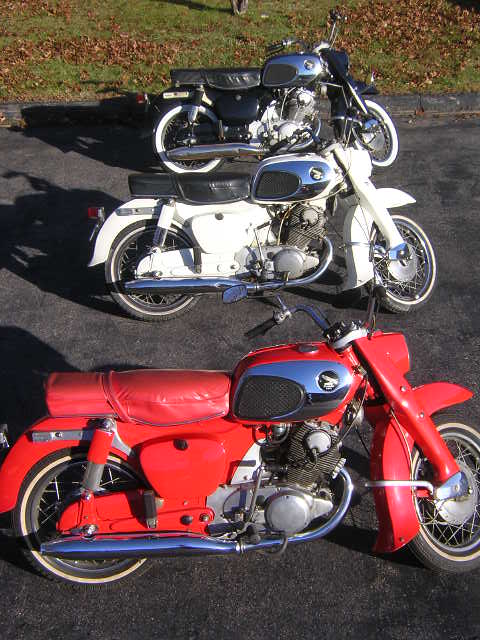 These are Honda Dream 300s. The designation is CA77 and the motor size is actually 305cc. They came in red, white, blue and black. The black one is a 1966, the white one is a 1964 and the red one is a 1967. I under stand that these were made until 1966 and the unsold ones were titled in the year they sold.

A close look reveals a pressed sheet steel frame and fender combo, forks (with leading link springer hidden inside), head light nacelle and side covers. Not much tube steel here. Square is the predominant shape and sharp lines rule. Very distinctive bike that gets lots of attention everywhere it goes.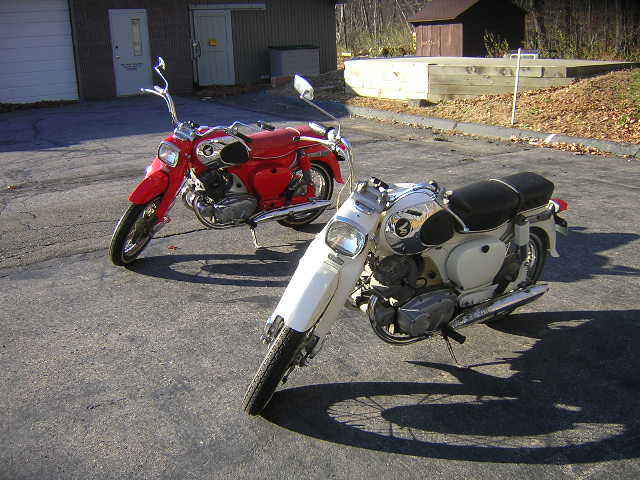 *4 speed transmission
* Compression is 8.2:1
*Clutch: Multi disc wet plate
*Tire size: 3.25 x 16
*Fuel capacity: 3.1 gal.
*Weight: 372 lb
*Top Speed: 86 MPH
*Bore and stroke: 60x54 mm
*Wheel base: 51.6"

The Honda Dreams lean the way most motorcycles that I know lean. The HD Sprint leans the opposite. This makes it stand out in the line up of bikes at Weirs Beach. I have no idea how this bike is viewed by riders of other HD bikes. I know the sportster riders get hassled for no good reason, by the big twin guys. I have even done this myself.

It will be fun to take this to a few rallies...