Page 16 - 1966 Triumph Bonneville
Summer around 1979 in Old Lyme Ct. This is my 3rd motorcycle, a 1966 Triumph Bonneville.
The bikes prior to this were a 1971 Suzuki TS90. I drove the Suzuki in the tabacci fields and on the street when I turned 16. At 17, I bought a 1973 Honda CB350. I used to drive that bike to Bloomfield High School in my Senior year. I will try to find a pic of it...
The Chopper: There was not too much left stock on this old gal. It had a hardtail frame with a severe rake, long forks, HD peanut tank, twisted steel sissy bar and king and queen seat.
This bike was the coolest thing (I thought) on 2 wheels. It was also VERY tough to ride. I used to let most of the air out of the rear tire just so I would not spit out blood after hitting a pot hole. I still have back issues from this one.
When I bought this for $1,000 (earned at $2.33 per hour a bagging groceries) it was metallic brown as so many rattle can customs were. I rode it like that for a while and was very surprised to find that my Grandfather had completely disassembled the entire bike when I parked it there for the winter. The carb parts were soaking in gas, the wheels were in the corner, the pipes hung from the ceiling and he had the cylinders off, looking at the pistons. He was an old Prat and Whitney mechanic and an unstoppable tinkerer. I miss him.
Below was my 1970 something BMW R90RS? I did not keep the Ogly bags on it as I thought it was prurty sporty as it is here.This was fun but short lived. I traded it to my Cousin Joe for some siding for my house. Joe must have hated it because he never finished the siding. I did, but I did a terrible job. This may be the only pic of this bike. I am pretty sure that I have no pics of the siding on my house.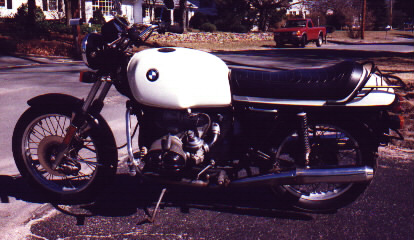 Below is my project for next Fall: 1956 Harley Davidson KHK 55 CI