Page 12 - Wanda's Honda
Here is Wanda's Honda or maybe a Whonda. If you look past the ugly sissy bar you may see a 4 cylinder 350cc engine. This engine actually purrs like a happy cat in a spot of sun. The cat may or may not know that it has a less than attractive sissy bar on it. I had a sissy bar like that on my 73 CB350 when I was a kid, but Christ, that was in like 1977 when the entire planet had fasion issues. I guess I just did not know any better.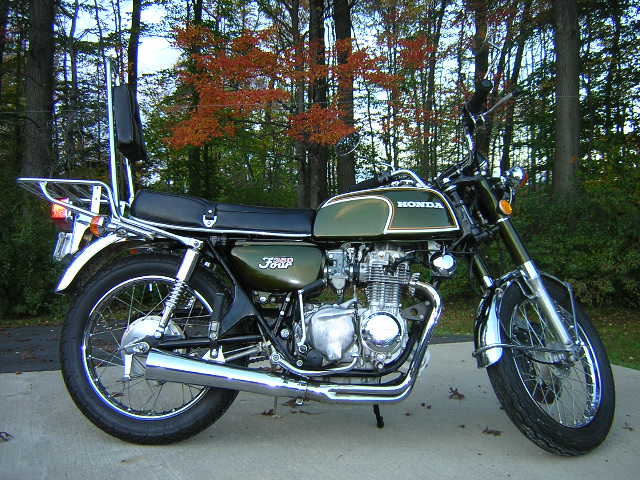 No nasty sissy sissy bars in this artful shot of the beautiful engine. I guess this came with dual 2 into 2 pipes and I hear that they rotted out very dependably. When this baby is fired up, she reminds me of a sewing machine, Swiss clock or maybe an Elgin road sweeper.

This bike has been owned since new, by women. Obviously, none of these women would know a fashionable sissy bar if it bit them on the helmet. I mean, if you look at the rear of the sissy bar, where there is a duct tape backer, you can see evidence of the original backer that was made of carpet. At least it is not a gold and chrome eagle. Yes, I hate gold and chrome together, but I really dislike Japanese bikes with eagles on them. If you have gold and chrome on your $20,000 Harley and your Mom never called you "Hey stupid" when you were young, maybe she should have.

Stupid.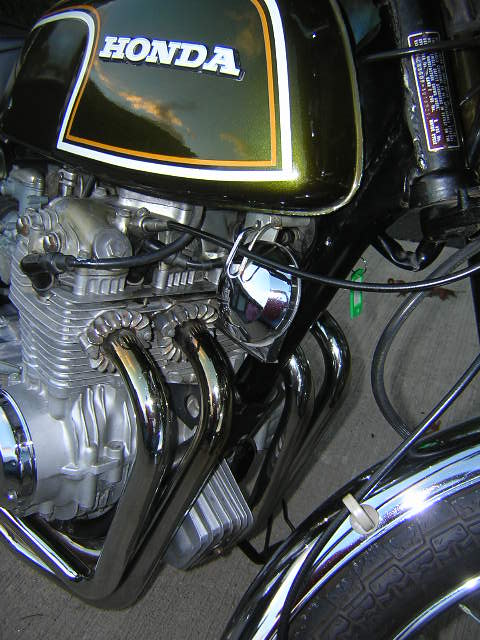 A big thanks to John at Eddie's Vintage Motorcycles who hooked W up with this sweet ride. John is also the man who welded that NOS model specific rear rack to that GOD awful sissy bar thus putting W in the pickle she is in. What being a girl and needing a rack to carry a ruck sack of supplies every where she goes, she is stuck with the sissy bar from Battle Star Galactica. Maybe if she put a pair of "Earth Shoes" and a 'black light' poster of a dope leaf, we will have some continuity to this time line.

I think for Christmas, I will hack saw the offending accessory off, gather my DeWalt battery drill, drive down to New London, CT and screw this to the wall of the Bank Street Cafe. It will be among other motorcycle parts too foul to adorn bikes, such as the ham can air cleaner from a 80ci FLH and the twisted steel highway pegs and...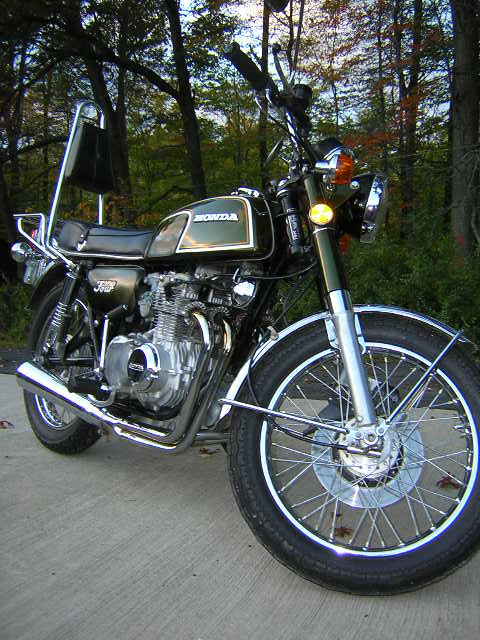 Yea! Winner's Circle!