Page 11 - Harley Davidson M50
This little guy is a Harley Davidson M50s. Made in Italy at the Aermacci plant it is a sporty 2 stroke that shifts through it's 3 grear by rotating the entire left grip and clutch lever assembly. Pretty dang goofy. It is in nice original condition and runs well except for the oil that pours out of the right side cover when she get hot. I see a gasket in her future...
Here the M50s is among two very nicely restored bike of the same year. My Original one looks a wee bit shabby next to these beauties. The Museum's M50s is the furthest away from the camera. This is at the Oley, PA AMCA antique meet. These are on the Judging field. Note the correct header on the closest bike.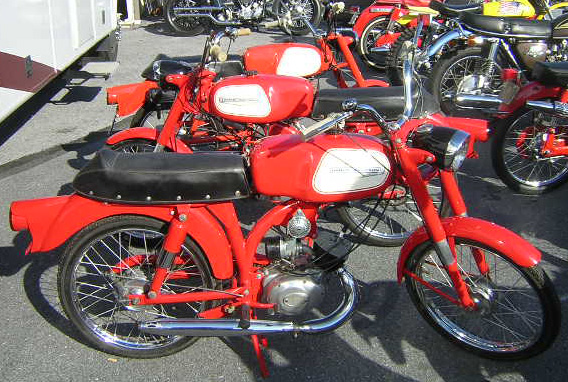 Below is a 1959 Harley Davidson model 165. These are often mistaked for Hummers, but the Hummers are 125 cc. This is the big brother at 165 cc. It is a two stroke hardtail motorcycle with a sprung saddle and front telescopic forks. This bike has the optional Hi Fi red paint that is a metallic deep red. The wheel size is 18". This bike is restored and everything on her is correct for the 1959 year. She moves right along through the gears and I have had her up to 45 MPH. Click HERE for more pics of the 59 HD.