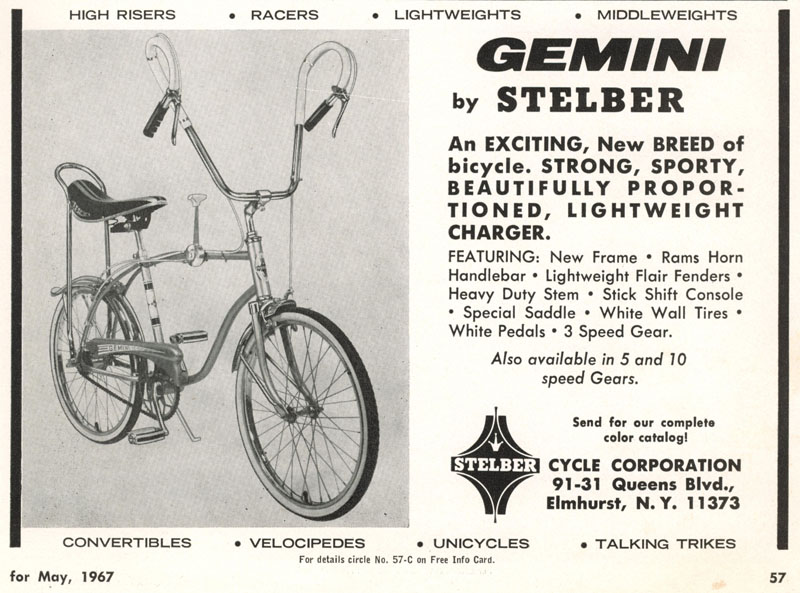 The New England Muscle Bicycle Museum. The Bicycles page 69.
The Museum has located the "mantis" style handle bars that are the trademark of this Stelber Gemini (thanks to Trevor and Rick) and I began to seek out good pictures of the set up the bike was to have, when it was delivered to the dealer. I had the very early advertisement above from "The American Bicyclist" and the ad we have seen on George Barris' site with the kid on the green one riding on a huge '1968' painted on the floor.
The bike above is a 3 speed with a chain guard screen rocket type flair, long chrome Shimano click shifter and the brand new [in May 1967] sprung sport Troxel Banana seat with the striping and plastic numbers on both rear sides. The bars have a combination of white tape and seat colored grips with a space between the levers and grips with chrome bars showing. Note the "Available in 5 and 10 speed gears"
Below is a 10 speed bike with no chain guard, regular banana seat with matching grips and tape. The shifter is hard to see but seems to be a twin stick chrome unit. Too bad that the kid's leg and foot hide the front derailleur