The New England Muscle Bicycle Museum. The bikes page 68.
Since the Museum does not buy whole collections, hit the swap meets hard looking for missing bikes or endure the trauma that is buying a condition #9 bike on eBay is, anymore, I have not added pages to the bicycle content in a long time. In all honesty, I have had trouble with the new program that I elected to use since Geocities told everyone to go pound sand. This updating of the site is the part of the hobby being the other thing I do when sick in bed. (The first being sleeping.) So as I enjoy the active months I try to get some sort of photographic record of what the museum is doing. Sometimes it is a Friday night ride in Hartford but sometimes it is a long weekend in England for Billings. We have done rides with S.C.U.L. in Boston, the NYC 5 Bourough ride, Northampton, MA martini race down the parking garage, Providence "Fire/Water" (not that Tonto) run, the Philly small wheel ride, Block Island ride, Lower East Side after midnight Vietamese Super Model crawl, Newport in the wind as well as the now nearly famous Easthampton Old days and Simsbury Memorial Day parades. I think that some of the pics from some of these rides may interest the Banana Bike Fans. Got a favorite pic of a Museum ride? Sent it to me and I will add it the next time I am sick.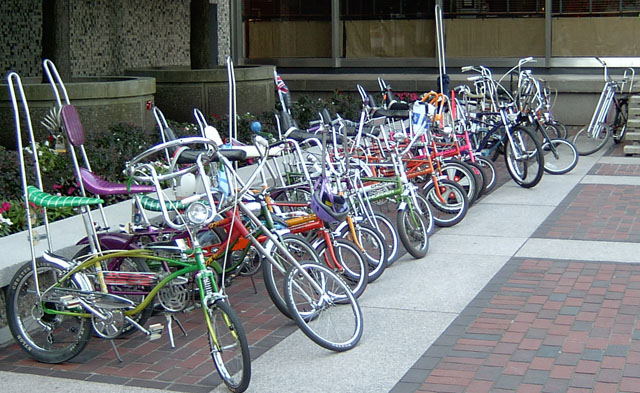 Here is a stop in Hartford on Constitution Plaza. It seem that we have not yet been tossed off by Security (This will happen and we will also be tossed off the sidewalk and told to ride in the road. This is VERY dangerous in Hartford as on a Saturday night Hartford in neither sober nor biker aware. "Please officer, would you affix a target to my back?"
Very good turnout and GREAT selection of bikes from 65 - 99 or so. We are, once again, parked like Harleys in front of a Martini bar. What would my Mother think?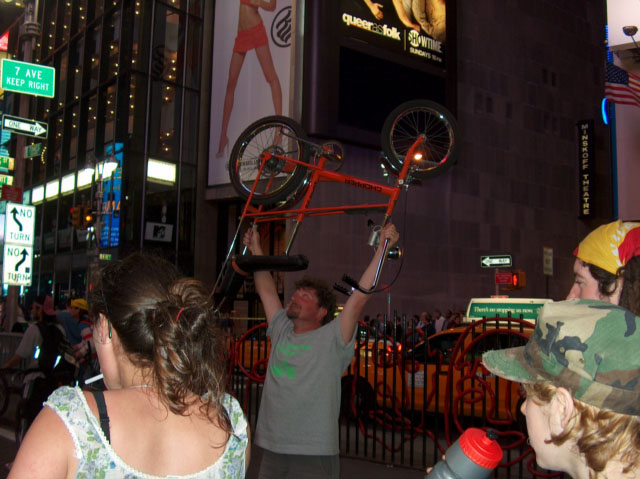 I have always loved this picture. This was taken after the NYC bike show (held on Lexington Ave) during one of the monthly Critical Mass rides. The bikers are well out of hand at this point, having actually shut down traffic in Times Square. This ride was perhaps the most intense and because it that, the taking of pictures was not a priority.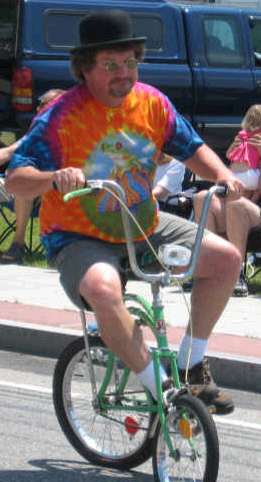 We dressed up like people from the movie "Hair" for the 2009 East Hampton, CT "Old Home Days" Parade. In this parade, we are the targets of water balloons, water cannons and derisive taunts. (Kind of like High School) Here in this picture shows the age old battle of hippy vs Swing Bike. If you haven't joined "Hey Steve and Wendy, Wendy, Wendy" for this, you are missing out.
.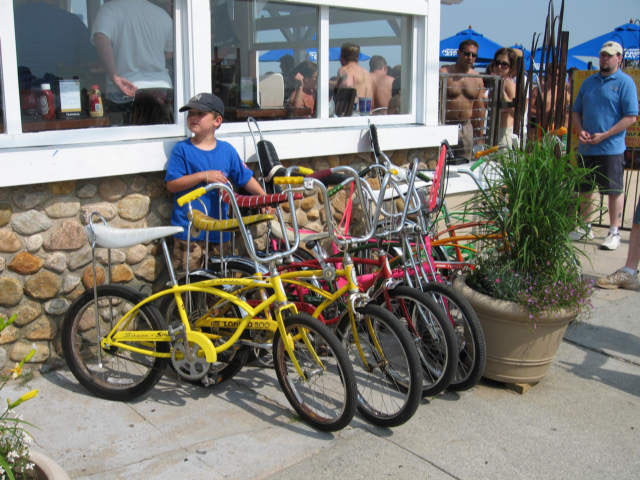 July 4th on Long Island Sound. Usually a smallish ride. This ride includes swimming, Bar B Q, Killer Tennis (What I mean here is we play tennis with alternate rules and 20 teammates per side. There is blood loss, tears from children, treachery, spilt drinks, bizarre penalties and odd German Measles type bruising.)
..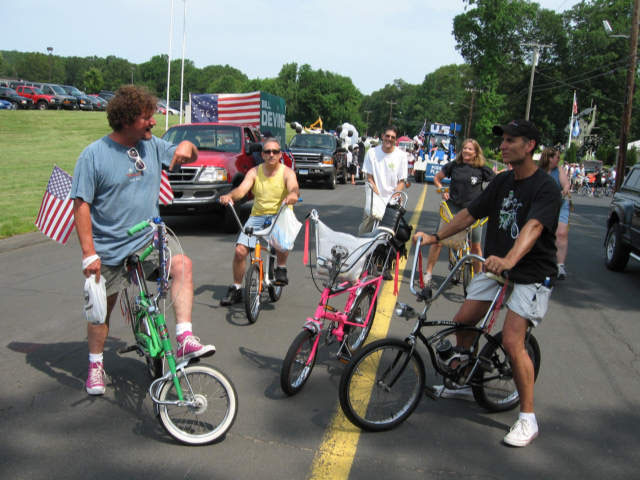 Old Home Days from 2008. I can I.D. Steve's 66 Ray, Wendy's Screamer, W's subtle Pink 69 Chopper, Jim's 70 Mach 5 and Tony D's Columbia all gathering before the event. Here is the last year we were allowed to use candy as weapons. (Note plastic bags and fat pockets). We had to go defenceless after this year.