To contact the site administrator, email him at musclebikemuseum@aol.com
Page 58 - The Iverson Rogue (3 pages) and The (other) Dragger 5.
This Iverson is in fairly nice original shape. This louvered

chainguard

has the remnants of the words "The Dragger" and 4 sets of pin stripes. The catalogs I have all show just the word "Dragger" with out the "The". The green one from in the museum also has the "The" as a prefix. I will bring this guard to North Hollywood in April 2007 and ask the designer to rewrite the striping and words on the guard. While there, I hope to have Mr.

Barris

sing a few of the guards that are on the Museum

Iversons

. Thanks to L + L for the heads up and to Whittler for buying this when I was away.
Well what do you know!! The Rogue is ORANGE! I am so

embarassed

, I thought it was red. Special 2 year long thanks to Linda from Port Saint Lucie, Florida who had the uncommon sense to buy this Connecticut bike at a yard sale, keep it on Long Island, NY AND retain it when she moved down South. Not only is she pretty and fun to talk to, but she has a good eye for art. (Silhouette of Rogue on my Singer Island Hotel Balcony hours after I picked it up! note Atlantic Ocean)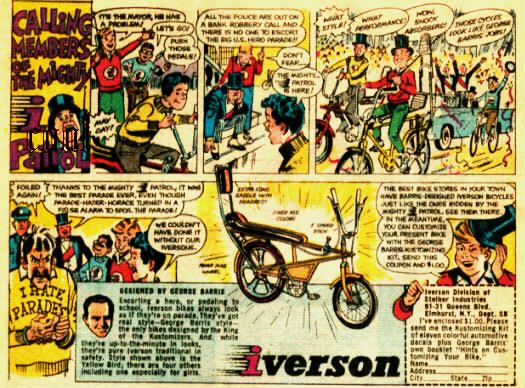 Hey, another I-Patrol ad! Git a load of them bars!!!!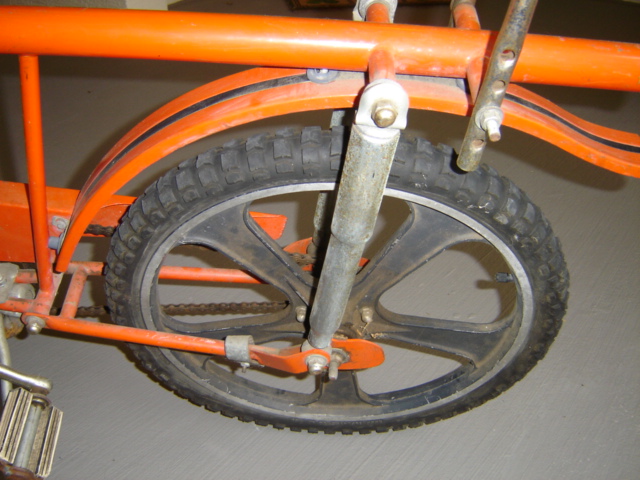 Just as I got her from the owner. Nothing cleaned up or polished: