To contact the site administrator, email him at musclebikemuseum@aol.com
Page 53 - Another Apollo and a pair of Spaceliners.
The New England Muscle Bicycle Museum. The Bikes page 53.

Thanks to Cousin Al for housing this bike found near his house on Winthrop, MA. Pretty pristine Ross Apollo in a Flashy Candy Chocolate with a great white saddle, grips and screening. Correct Gran Tour

RWL

tire on the front and an incorrect Eliminator

RWL

Slick on the back.
I do like this bike, but I won't ride it after last weekend's debacle on a yellow Apollo Racer. While showing off in front a crowd of Harley fans, I tried to pull a

wheelie

and the frame snapped. Need less to say, I looked , uh, foolish and scared. Not great to look that way where I was and who I was with.
So this page's "Piece of Crap" award goes to every Apollo ever made! Shucks. They were almost my Favorite bike. Hang 'em on the wall...

The 1964 Sears Spaceliner signed by many of the cast of Star Trek the original series that aired from 1965 to 1968. The pilot was shot in 1964. The design of this bike reminds me of space and rocket ships. With that in mind, I thought the Star Trek autographs would be a nice tie in. Not pictured here is a 1966 Spaceliner with the same treatment and an even cooler tank. Long live and prosper.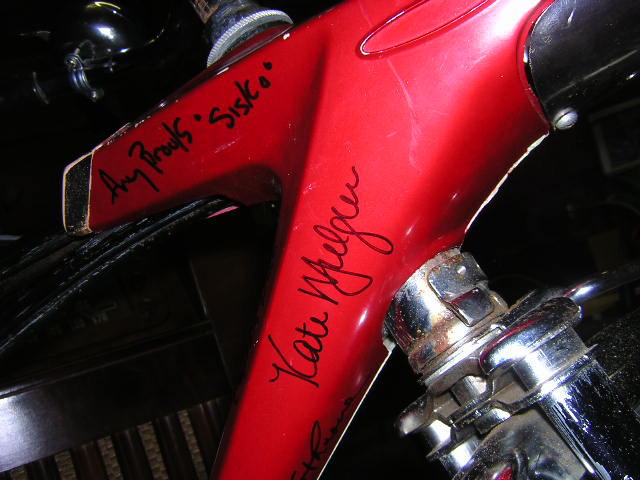 Signatures from various captains of Star Trek.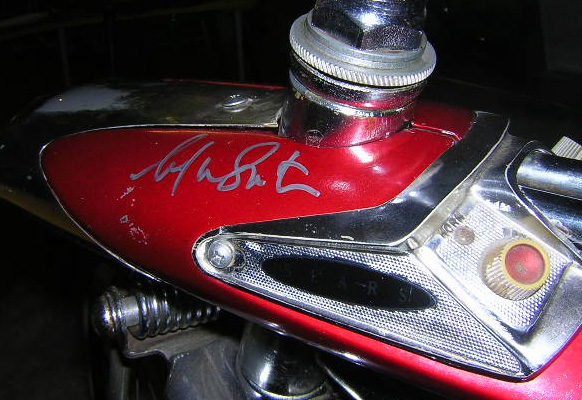 Shatner!
Mark Wilson 410-570-3539 or email him at musclebikemuseum@aol.com