To contact the site administrator, email him at musclebikemuseum@aol.com
Page 21 - George Barris designed Iverson Drag Stripper, Yellow, yellow AMF Renegade 3 speed, Raleigh Chopper unisex model and Trusty Tracker 16 x 20 3 speed
1969 Iverson "Drag Stripper" (two words) This original George

Barris

design is relatively unknown in comparison to the 1970 exhaust framed "

Dragstripper

" (one word), also designed by

Barris

. George

Barris

is better known for his super hero car creations: the

Batmobile

and the Black Beauty, not to forget the Munster's car and dragster.
This 16" x 20" muscle bike is painted with a yellow base with a candy orange (seen in its faded glory here) top coat. The paint scheme was called "Glowing" in the period ads. Shimano "rotary dial" 3 speed shifter, front drum brake, Messenger spoon saddle and matching orange/ black pad on the sprung sissy bar make this one of my favorite museum bikes!
Original ad!

Later AMF "Renegade" 3 speed. Too much yellow (taste be damned!) for most people, this yellow with black racing stripes on the fender bike sports period correct yellow rubber with black line "Tractor Grip" tires, Shimano gearing, white seat with racing stripe (may not be correct). After adding a yellow slingshot with similar paint scheme to the museum, I pulled this out of the "make it go away pile" and spiffed it up for display. I only kind of regret doing it...

This restored purple Tracker 3 speed was made in the 70's by Trusty Manufacturing in England. Of all the "Chopper Bikes" that got inspiration from Raleigh's Chopper, this is my favorite. Yeah, them thar be MK2 bars and OK, the shifter is almost a chopper shifter and why yes, the rims are chopper rims...
This is a good quality bike that is unique in the frame design with the front fork bolted to the torch mount and the rear fork bolted to the drop out. I have heard that Princess Diana had a red one of these as a kid.
Crikey! Mine is different from the one in the advert! Bloody hell. What would Danger Mouse do? (I think I have the right guard now... but that seat? ...awful)

This NOS 1971 girlie chopper frame has been matched up with 1 of 2 known existing converter bars that were sold in the USA to convert a girlie chopper to a boy's chopper. They fit to the steer tube on the front and are tensioned by a bolt and nut welded to the bottom spring cup. I have only seen these in white. The original shifter is still on the converter bar as is the correct girlie shifter on the gooseneck. No spoke protector were correct on some of the girl choppers.

SEE MORE!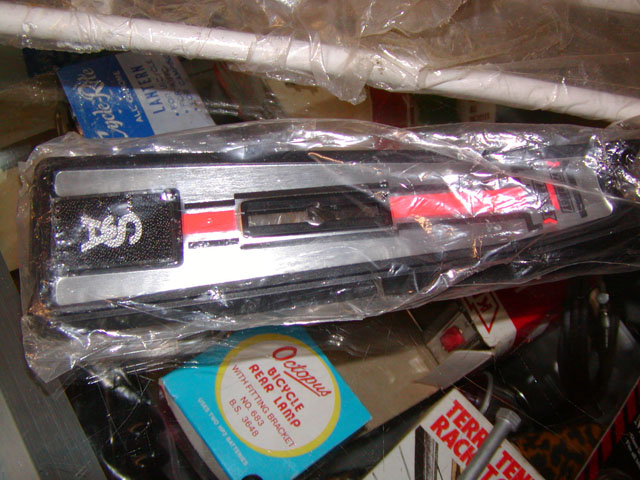 Here is the NOS stock console that came witht he converterbar. Note that it ca be used on the coaster girls bikes as well as the 3 speed and coaster brake 3 speed. It looks to have been made early in MK 2 production. S/A made the console, but who made bar. See NOS bar below!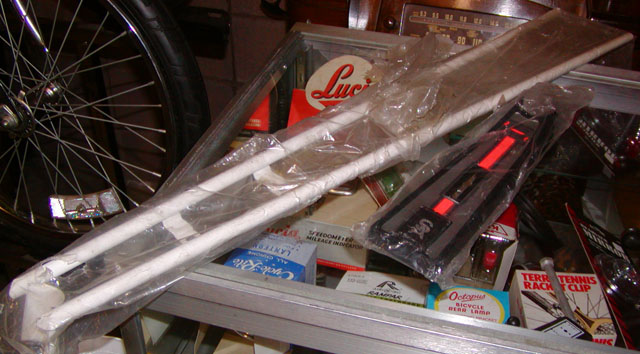 Would Raleigh have wrapped it in plastic or brown paper?

The Museum loaned out a number of bike to the director of the movie "Indian Hill" that was filmed in Portland, CT.